This is something i wrote which i intend to get my country's media to publish it! I hope you guys enjoy reading as much as i enjoyed writing it!
------------------------------------------------------------------------------------------------------------------------------------------------------------------
By Non Mollare Mai
Singapore
I caressed the shiny flag for one last time, before stowing it into the drawer. Lazio's Tri-Colori flag will not fly again until the next Rome derby.
I sighed deeply and said quietly to myself. "If only Floccari had converted the penalty".
As a life long supporter of S.S Lazio, the derby meant the world to me. The feeling of defeating our rival, A.S Roma, in the derby is as amazing as winning the Italian Championship. This year's Rome derby is particularly interesting – with five games remaining, Roma are one point behind league leader, Inter Milan. Lazio, on the other hand, find themselves languishing at fifth from the bottom of the table, and fighting to survive in Serie A. Therefore, both teams were really fired up for the game.
In Italy, preparation for the derby starts as early as 1 month before the match. Fans would flood Lazio's TV/Radio talk shows and Internet forums to urge their players on, and they will start preparing the flags and banners we often see flying in the stands.
Despite being bombarded by Premier League football in Singapore, I had the honor and privilege to befriend a die-hard Lazio fan, Stefano. He was born and bred in Rome, and is currently working here. He had chanced upon my blog and has since joined the local Lazio Supporters group. We decided to show our support for Lazio despite being thousands of miles away from Rome – we decided to construct a Lazio flag for the derby.
After meeting with some problems liaising with local flag manufactures, we decided to make the flags ourselves. It is common for fans in Italy to design and make their own flags. For fans, a flag with the club's symbols is very sacred indeed.
We headed to Mustafa Shopping Centre to locate the materials, and Stefano's familiarity with the mall was amazing. We managed to find the fabric and color that we wanted: dark blue, white and sky blue, Lazio's colors. We drew up the dimensions and began sewing. With the help of my cousin, who is a seamstress, the flag was completed in no time. Measuring 300x200cm, it is huge, and we could not wait to fly it on match day.
We would be watching the game at Sapore Italiano Café Bar, which is located at Raffles City. Darran, another Lazio fan, and I were there early to set up our flags, camera and, of course, to soak up the atmosphere. Guess what to my disgust, the Romanista – Roma fans in Italian – were already there; the owner of the place had invited a few Roma fans for the match. The intensity of the rivalry between the two Roman teams is like no other derby I've seen. I felt the tension the moment I crossed eyes with this fat Italian man in his early 40s. Animosity between fans at the derby is common, and it was no surprise that even here, the hostility felt very real.
After I got to my seat, this fat man turned around and asked me arrogantly and sarcastically, "Why do you support Lazio?" I replied, smiling, "Because Roma are s***".
I had already told myself not to be provocative, but his manner of disrespect prompted my similarly uncouth response, and so I thought I should return the favor.
Meanwhile, the boys from Singapore Lazio Supporters group started arriving, and we were all very optimistic and confident that we would obtain a good result. That was because we had won the last three editions of the home game against Roma. The last, a memorable 4-2 victory.
A familiar song was played in the restaurant just before kickoff and we all sang our hearts out to it - it is our club anthem, 'Vola Lazio Vola'. I had specially arranged this sing-together, and even got the lyrics of the song printed out for those who wish to sing along. We held up our scarves proudly and I sang myself hoarse. The Roma fans that were present looked at us in astonishment. The looks on their faces suggested to me that they are wondering why there were such crazy Lazio supporters in Singapore, who knows the Italian lyrics of the Lazio anthem by heart. The Romanista were further left dumbstruck when they saw our huge Lazio flag! For me, I felt like we have already won the game!
The match started off with Roma fielding a trident attack in Toni, Totti and Vucini, while Edy Reja, the Lazio coach decided to leave Mauro Zarate, the star player of Lazio, on the bench. Lazio's defender Willy Stendardo got off to the worst possible start as he was stretched off due to a fractured nose he sustained from a collision with Luca Toni. The Roma fans at the Bar were buoyant and started teasing us. I traded friendly insults with a Romanisti who was sitting in front of me.
The match restarted and a defensive error in the 14th minute by the Roma backline presented us with a goal! We exploded, and I went berserk! Lazio's Captain, Tomasso Rocchi received a delicate ball from Christian Ledesma and broke free from his marker to slot in the ball into the net. It was one hell of a great start! I was ecstatic!
That goal silenced the Roma fans in the Bar and I could not help but continue singing, which undoubtedly infuriated them. For a second, I felt as though my whole body were shaking. It took me awhile to figure out that it was actually the vibration from my phone, indicating the flurry of SMSes that were pouring in. My cell phone was vibrating non-stop. Friends and colleagues that were behind Lazio for this match were sending me messages to share their joy with me.
I called up my friend, Simon from Nanjing, China, and he too was feeling exuberant. The city of Nanjing is well known for its large Lazio fan base. I could hardly hear what Simon was saying.
"Who did you call, and why were you faking the accent"? Darran asked
"Nanjing fans, everyone went mad"! I replied.
Roma stepped up a gear after the restart but Lazio's defence held up. We went into the break with a 1-goal cushion. During the half time break, I was so nervous and my heart was pounding so fast that I thought I would collapse from cardiac arrest anytime. I was with Stefano and Melvin as we discussed about the possible changes to the second half. Stefano was telling me about how this derby resembles the one where we won 3-1, courtesy of Di Canio's superb volley. I, on the other hand, was very worried that Reja would switch to a defensive mode. Roma have been famous for disappearing in the first half and coming back from behind in the second half this season.
The second half started in the best possible way for us. A penalty was awarded to Lazio as Roma defender Cassetti tripped Aleksandar Kolarov inside the penalty area. I turned my back to the screen, as I was too nervous to watch. Striker Sergio Floccari, who on so many occasions single-handedly saved us from the brink of defeat, fired a weak penalty straight into the legs of the Roma keeper, Julio Sergio's legs - he missed! From the faces of the boys, I knew he had missed. My heart sank! That saved penalty sparked the Roma players forward. Soon after, Kolarov tripped Taddei in the box and the referee gave Roma a penalty. Vucinic stepped up and scored. Roma have equalized much to the horror of all the Laziali in the bar.
I was happy with Rocchi's work rate and performance for us, and he impressed me further with his run from his own half to the opposition's penalty box before losing the ball to a Roma defender. I took a deep breath and cursed under my breath. Roma turned the game around completely after the penalty saved by Julio Sergio. Jeremy Menez was brought down just outside the Lazio's penalty box and Vucinic blasted the ball into the net with Lazio's custodian, Muslera, stranded. To be fair, that shot was unstoppable.
Our efforts to get back into the game were futile. Zarate was brought on with hope to salvage something but he too was unable to create anything. Ledesma was sent off late into injury time for arguing with the referee. Some post-game scuffles marked the end of 2010 edition's of the Derby Della Capitale.
Apparently, Roma's captain, Francesco Totti did a thumb down sign to Lazio fans in the stadium that angered the Lazio players and supporters. Personally, I feel that this is a very unsporting and insulting gesture. As a captain of a team, you are supposed to set a good example to the rest of your teammates and not lead them to committing such a disgraceful act.
In any case, the game goes on. We may have lost a derby, but we have not lost our pride! Whether we are playing in Serie A or B next season, I will never forsake Lazio for any team in the world!
Non Mollare Mai,
Nigel Gan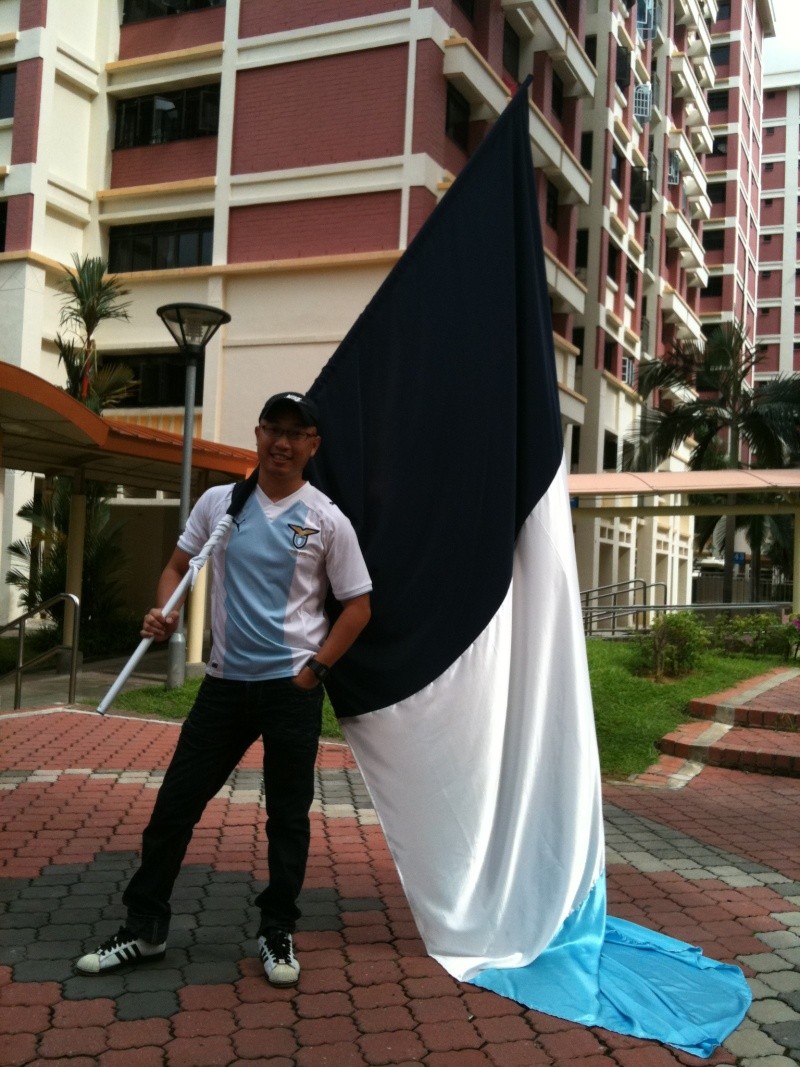 Me warming up for the derby.
Stefano waving the flag.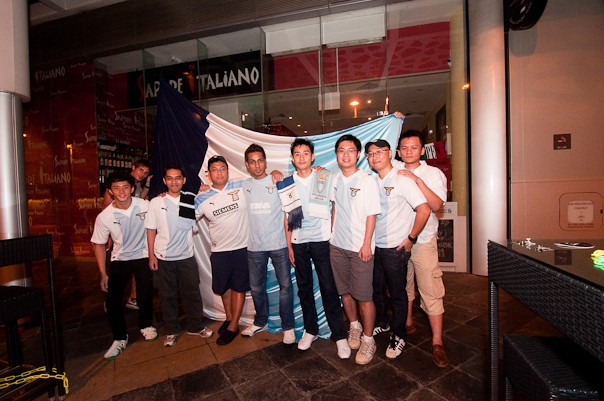 A group shot.
We lost a derby, but we did not lose our Pride!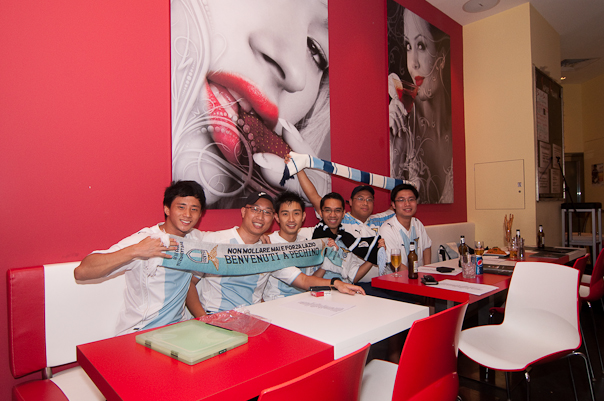 Inside the restaurant/bar. The scarf is a gift from China Laziali.