THE FOUNDATION :: source - (www.lazioclubmalta.com)
.......................... It was a cold evening of the 9th January 1900, when a group of youths, lead by the 25 year- old Luigi Bigiarelli, were throwing stones at the river Tiber from Ponte Margherita, nearby Piazza Della Liberta' in Rome.
Bigiarelli's group desire was to practice some kind of sport to enjoy their free time, as at that time Rome did not offer a lot of opportunities for the youngsters. In that year Rome was celebrating its thirtieth anniversary as the capital city of Italy and a number of activities were scheduled to celebrate the event.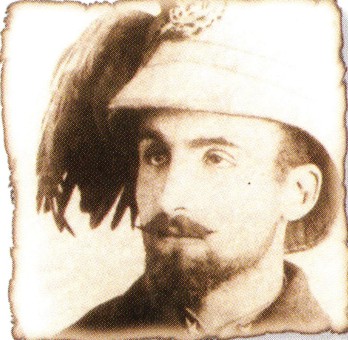 In fact, on the 21st April a race "Il giro del Castel Giubileo" was programmed in which all Roman athletes were invited to run. Bigiarelli, being a passionate of athletics, was keen to to run the race and tried to involve his friends too. The others welcomed Luigi's idea and were willing to participate. However, they had a problem. They weren't affiliated with any club; as a consequence they would not be entitled to participate in the race. Bigiarelli was determined and came out with a brilliant solution, 'we can form an club ourselves!'. The others were astonished but enthusiastic at the same time. "But what we shall name our club???", they said. They sat down on a nearby bench and everyone proposed a name, "Virtus, Ars et Labor, Archimide, Aristotele ,.Roma."
But Bigiarelli, being the leader had the final say. "We can't name the club Roma, as there is already a gymnastic club called like that. Moreover, we shall not limit ourselves to the capital city borders, but we must represent also all the nearby villages. The name must be something bigger than Rome, but in which Rome is included. We shall call the club "LATIUM" or simply "LAZIO", the name of our region of which Rome is the capital.
We shall use the colors of Greece, the land of the modern Olympic games, and our emblem shall be the glorious eagle, the noble symbol of the Roman Empire."
The 10th January edition of the Rome newspaper "Il Messagiero", reported that a group of romans founded a new club called "Societa' Podistica Lazio'. It added that the club was founded to generate a sports culture among youngsters, with athletics being its principal activity.
On the 21st April, the athletes of Lazio, better known as "Laziali" participated in the "Giro del Castel Giubilieo" race and four of them placed 3rd, 4th, 5th and 6th respectively. Quite an achievement, when considering their inexperience.
....................................................................................................................