Well well...I believe itís time to share this experience with Laziofever community.
It started a few months ago when me and our other forum member Lucho thought itís time to visit Rome again. It was almost two years since our last visit and also I must mention we hadnít had the best of luck during our previous Lazio games when it comes to winning. This time we decided to go for another game than the derby, so we picked up Lazio-Fiorentina. Fiorentina is a very strong side and naturally we were hoping to witness a Lazio win but I guess nobody could imagine what a game this would turn out to be...
Since our support to Lazio is wellknown among our friends and we have told them before about the great atmosphere at the Olimpico plus the city of Rome itself, and suddenly we had 10 people from Estonia going to a Lazio match.
I contacted Mr.Ermetico and as always he helped us in every way, arranging the tickets, giving us advice and instructions. Hats off and 1000 thanks!!
Entering the Olimpico is always stunning (size, lights, chanting crowd), the stadium wasnít full but the curva was so we didnít miss anything.
The game started balanced but soon Lazio took control and still we had to wait until the second half before it started to happen. Frey tested our nerves producing one save after another but finally our patience paid off...Mauriís overhead kick...the curva errupted (I felt happy for Mauri because he was the only player that got booíd while our team was announced). And it went better as you know, Pandev 2-0, Siviglia 3-0 and all that in 10 minutes! On 3-0 the crowd went totally crazy, I had to catch one guy on my shoulder falling from somewhere behind

Lazio was cruising, noone would have expected such a comfortable win and embarrassment of Fiorentina. Maurito Zarate ran riot on the Fiorentina defence and if it wasnít for Frey, the score would have been 5-0 at least. Our attack was very impressive but so was our defence, keeping Gilardino and Mutu quiet the whole game.
What can I say...a great game, great night, a great Lazio experience for all of us!
FORZA LAZIO!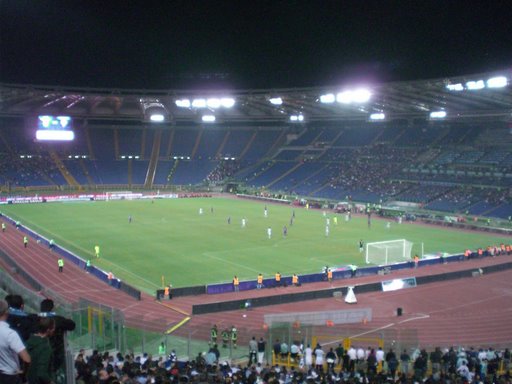 The Curva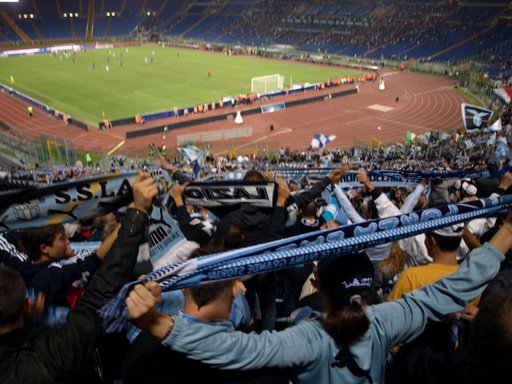 Zarate and Pandev at the end throwing shirts to the crowd